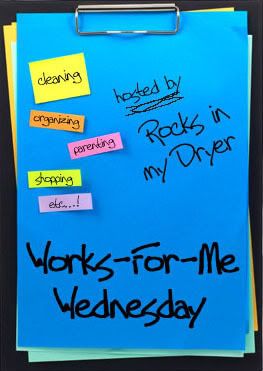 One of those dangerous habits of many people is to put things they need to take upstairs in a corner of one of the steps.

I've kept the childsafe gate to the attick.
On order not to put things on the steps, I took a bycicle bag... yep, those with the hooks... and hung it on the gate.
It worked so perfect, that when I found little ones, I bought a few, so now some of the children have their bag at the gate.
When I find something, I put it there and they take it to their room.

Downstairs the gate has gone.
But I've made a hook at a safe place and put a bycicle bag there too.
A nice reed one.

Nothing on the stairs again. And upstairs things are sorted before it all is stored.

It works for me.
---
Large families buy large quantities and need to have lots in store.
When I put things away I make rows on the base of expiration date, and put rows of items that combine side to site.
So the tomatosause is beside the pasta.
Works for me.

click the large graphic to take part too.